Our current promotion is a New Client and New Service Discount which entitles you to the following discounts:
$10 off any new service over $50
$15 off any new service over $100
$20 off any new service over $150
*This offer is valid for one service transaction at a time and can not be used with other Reliable discounts.
If you are interested in hiring us, please check out our reviews at the bottom of this page. We also have quite a few Google reviews from satisfied customers.
Previous Discounts
The following discounts were previously offered, and have been re-activated until March 31, 2022.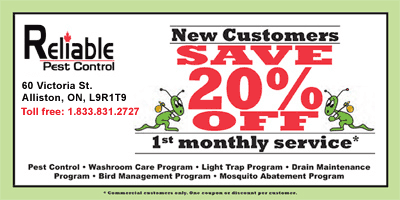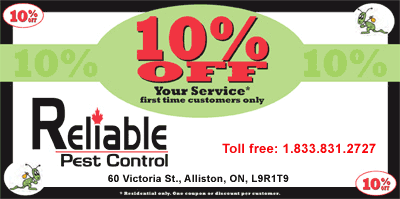 Reviews from Satisfied Customers
If you are interested, here's what some of our customers have to say regarding how we helped them get their life back to normal. We also have quite a few Google reviews.
I was having many sleepless nights because of the mice running in our attic space over my bedroom, as they scampered back and forth. Listen to their pitter patter of their feet on the drywall.
The loss of sleep was unbearable and very stressful.
Reliable Pest control (after one visit) resolved our mouse infestation as you can hear no more scampering about, I can finally get a peaceful sleep and my stress is gone.
-S Ingham
Mosquitoes and weddings don't mix.
We were having an outdoor wedding in our barn and wanted to reduce the amount of mosquitoes for our guests. We didn't know where to start, we had two acres and the mosquitoes were terrible, we couldn't go outside without heavy duty mosquito repellent!
Reliable pest control was professional and the service actually accomplished what was promised. I didn't notice a single mosquito all night! We realized they were able to solve our problem with a natural and safe way. We have chickens and didn't want to use anything that could poison them.
We were able to enjoy our wedding night with all our guests without being swarmed by mosquitoes!!!
-Nicole M
We were having a problem with Rats in the barn getting into the chicken feed. They were constantly constantly doing damage to the foundation, wood, and storage bins. Hard to believe something so small can cause so much damage.
Reliable Pest Control was Very prompt with a variety of solutions. They also had Great follow up to see what was working and what was not – it let us get ahead of the problem quickly.
After a short time were seeing less tunneling/damage and there was less animal feed disappearing overnight.
For both cost and hygiene reasons it was a Great comfort to know the chickens are not sharing feed with rats. Happy that there is no longer ongoing damage to the building.
-Andrew L