It's that time of the year. The temperature is dropping, and millions of mice and rats are looking for a warm place to spend the winter.
Unfortunately for you, some of them have decided to camp out in your house. Yay…..
There's no doubt about it, mice can cause a lot of damage to your home. They like to chew on everything they can find. However, this is like any other problem, it can be solved. One thing is certain…it is extremely important that you deal with rodents as soon as possible. This will minimize damage and the other problems that are associated with having mice or rats in your home.
You Could Solve This Problem Yourself
First of all, you need to get rid of the pest problem. This will involve strategically laying traps, and bait for them. Then you must periodically check for dead (or trapped) rodents.
Secondly, you need to find out how they're getting in….because once they find a good home, they'll keep coming back. That is certain. Even worse, they might just stay year round.
Losing control of your home is terrible. You work hard. It is tough to be tormented by:
chewing noises in the middle of the night
wondering if your air is clean and free from rodent borne disease or allergens
finding droppings everywhere, sometimes even in food.
You could solve this by setting traps and bait. Then you have to root around in your basement and attic looking for the entry points and signs of the rodents that you are hunting.
But…will you be successful? Do you even know what to look for?
An Easier Solution
A Reliable Pest Control expert can help you with this. If you want to tackle the problem yourself we can guide you on where to look, and how to eliminate critters that are bothering you. We can also recommend the best environmentally friendly products, and protective gear that you should use. We can also supply you with these products at a very affordable price.
If you try this and you are unsuccessful, let us know and we'll send an experienced pest control technician to your home. They'll get you the results that you need…..Guaranteed!
The Easiest Solution
If you don't want to mess with any of this (and who could blame you!) contact us at 705-250-7378. Alternatively, you can use the convenient contact forms on this page, or email us at info@reliablepestcontrol.ca.
We'll know exactly what to do to help you.
Contact Us
Call 705-250-7378, or email us by using the form below.
Our Google Reviews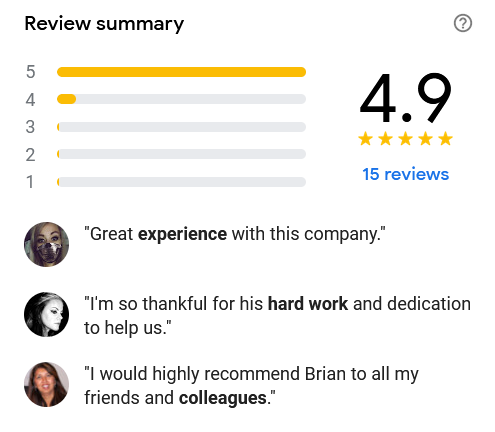 Check out all of our Google Ratings at the Google website!
Customer Satisfaction
If you are interested, here's what some of our customers have to say regarding how we helped them get their life back to normal.
I was having many sleepless nights because of the mice running in our attic space over my bedroom, as they scampered back and forth. Listen to their pitter patter of their feet on the drywall.
The loss of sleep was unbearable and very stressful.
Reliable Pest control (after one visit) resolved our mouse infestation as you can hear no more scampering about, I can finally get a peaceful sleep and my stress is gone.
-S Ingham
Mosquitoes and weddings don't mix.
We were having an outdoor wedding in our barn and wanted to reduce the amount of mosquitoes for our guests. We didn't know where to start, we had two acres and the mosquitoes were terrible, we couldn't go outside without heavy duty mosquito repellent!
Reliable pest control was professional and the service actually accomplished what was promised. I didn't notice a single mosquito all night! We realized they were able to solve our problem with a natural and safe way. We have chickens and didn't want to use anything that could poison them.
We were able to enjoy our wedding night with all our guests without being swarmed by mosquitoes!!!
-Nicole M
We were having a problem with Rats in the barn getting into the chicken feed. They were constantly constantly doing damage to the foundation, wood, and storage bins. Hard to believe something so small can cause so much damage.
Reliable Pest Control was Very prompt with a variety of solutions. They also had Great follow up to see what was working and what was not – it let us get ahead of the problem quickly.
After a short time were seeing less tunneling/damage and there was less animal feed disappearing overnight.
For both cost and hygiene reasons it was a Great comfort to know the chickens are not sharing feed with rats. Happy that there is no longer ongoing damage to the building.
-Andrew L
Still not sure? Check out our Google Ratings we worked very hard to get them!